Would you love to create something special for a Valentine's gift? But maybe not have a bunch of time after the rush of the holidays and the new year? This mix of premium and free patterns can all be made in a weekend. I hope they help you quickly crochet a Valentine's gift or two that your loved ones will adore.
Velvet Hat Pattern
This premium pattern includes instructions for making the snuggly soft velvet hat. The pattern comes in nine sizes so you can make hats for babies, kids, and adults. Or, make a mommy and me hat set in coordinating colors. The pattern includes detailed written instructions as well as photo tutorials.
Sassy Sweetheart Earrings
Angie of Sassy A's Specialty Shoppe is an amazing and talented crocheter. She creates, designs and sells jewelry, home accents, hats and scarves. I was so excited to see that she had designed these super-cute sweetheart earrings for 1mm leather cord right before Valentine's Day. She is offering the free pattern on her blog. You can purchase an ad-free PDF as well.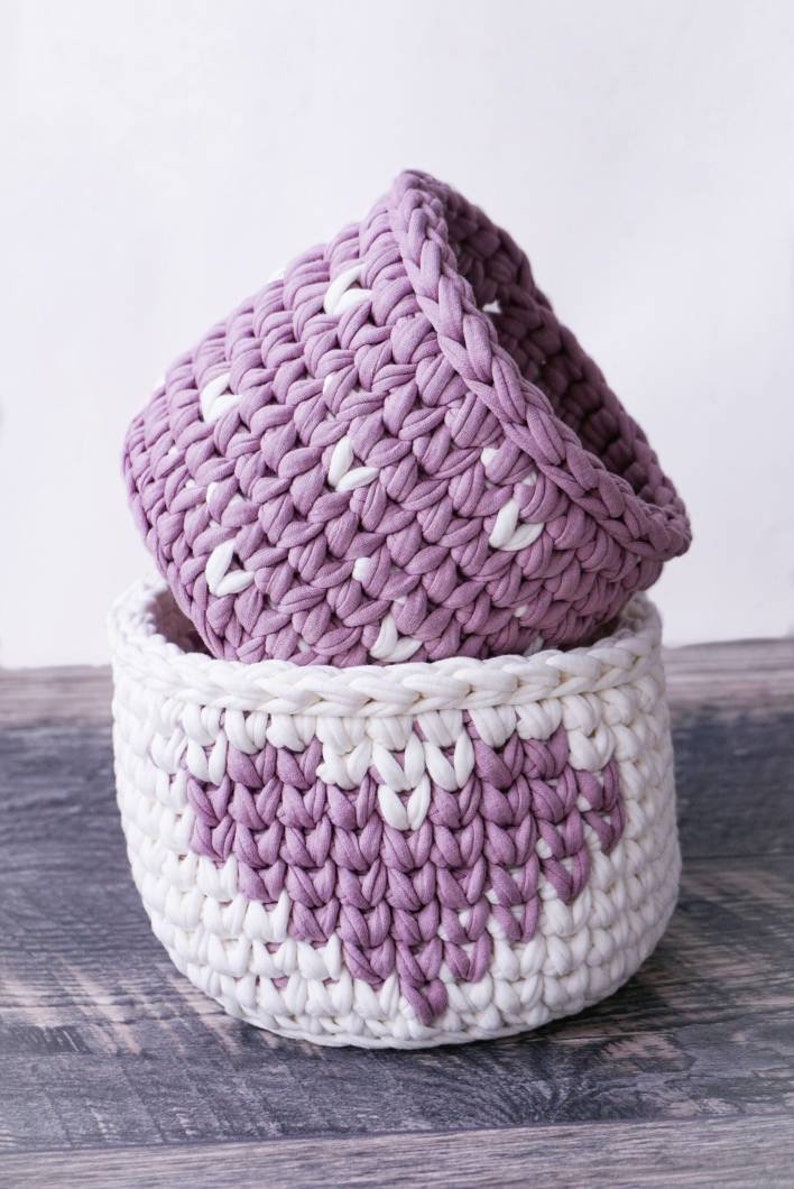 Valentine's Crochet Baskets
Aren't these bowls so cute? KnitzNPurlz specializes in fast, easy, and modern crochet and knitting patterns for premium t-shirt yarn and macrame cords. I love how the dust pink and off-white colors go together in the t-shirt yarn for these bowls. These would be fun gifts for Valentine's Day or year-round. This pattern is available for free on KnitzNPurlz' blog. You might just find yourself picking up some t-shirt yarn too while you visit.
All Heart Earrings and Pendant
I was so happy when Amber agreed to allow me to include her All Heart Earrings and Pendant in this collection of Valentine's patterns. Amber is an amazing designer. You may especially love all of the jewelry patterns she offers in her Ravelry Store. Use this premium pattern to whip of a pair of earrings (or two or three) using size 20, 10, or 8 thread. Or, try it out using yarn for a cute decoration or accessory.
Dreamy Ear Warmer
The Dreamy Ear Warmer looks so soft and romantic that I thought it would be a perfect addition to this round-up of patterns. Holley-Shae designed the pattern using measurements. So, you can make the ear warmer using Red Heart Dreamy yarn or any other yarn of your choosing. This ear warmer is also extra wide so that it stays on well. Visit her blog to find the pattern for free. You can purchase an ad-free PDF as well.
Tiny Hearts Cup Cozy
You can try your hand at tapestry crochet with this modern cup cozy design. The little stitches make tiny hearts which makes this the perfect Valentine's gift. Got any scraps in your stash? This premium pattern would also be great for making use of small amounts of your favorite yarns in an array of colors. Wouldn't someone love receiving a whole coordinating set? If you head over to Ravelry, you can purchase this single pattern or go for the eBook containing four Valentine's cup cozy patterns.
If you like these patterns and have a little extra time, the Snuggles and Waves blanket pattern also looks lovely in creamy whites and pinks for a Valentine's gift.